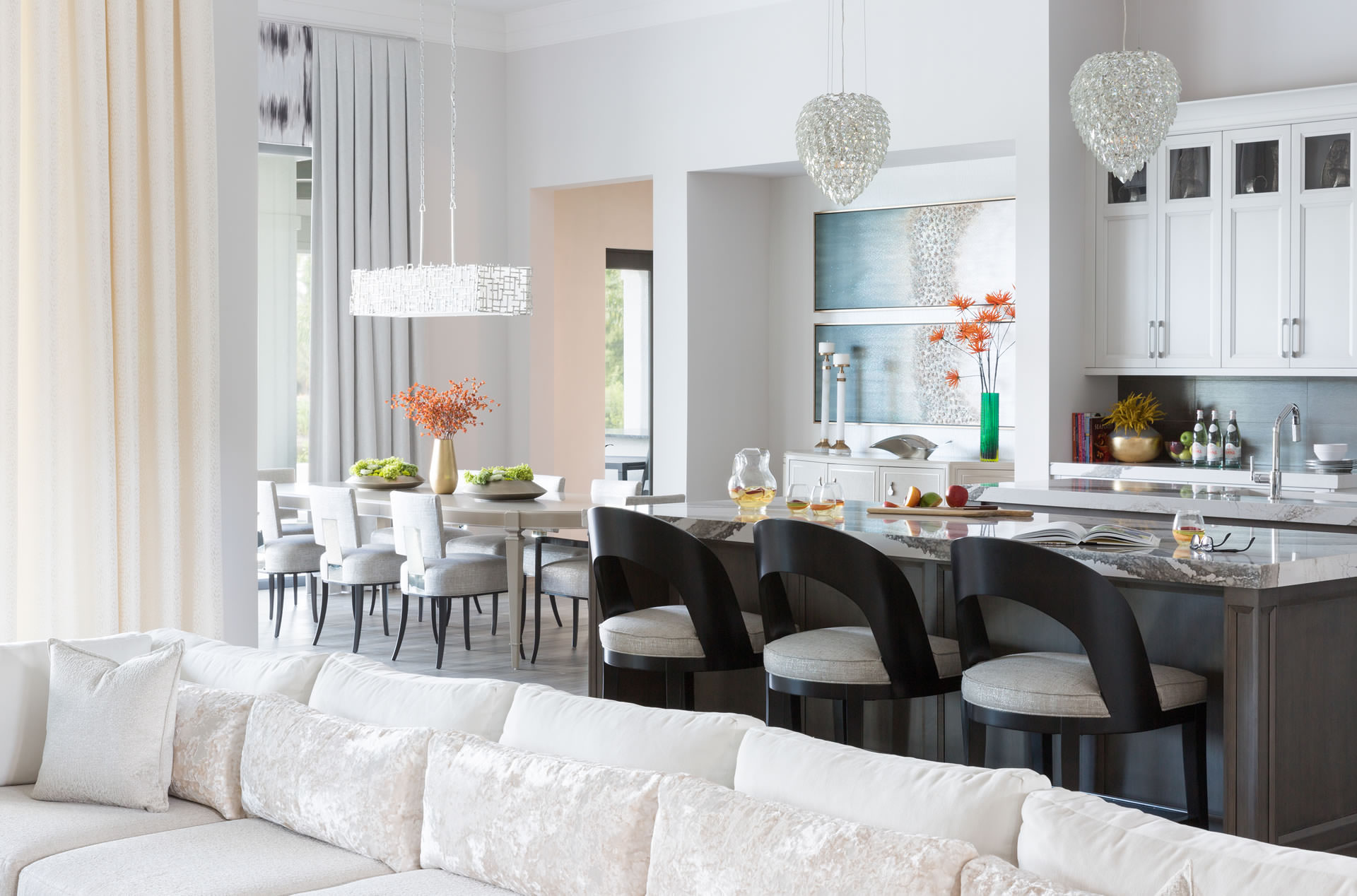 Over the past year he has offered his perspective on welcoming foyers, ultra-bespoke kitchens, master suite sanctuaries and family-friendly spaces, each infused with his signature touches. He tapped into his propensity to design with abandon, with his clients as the source of truth and constant inspiration, to bring design solutions to your inbox. Here are a few highlights from our first year of Your 4 Walls:
Last April, we started off this series with a timely column on making work from home, work for you with some thoughtful tips on turning any space in your home into a functional office. Dwayne's tips included making it your own with personal accessories and storage solutions that make it a place you wanted to be every day.
Our Mother's Day Room Refresh was certainly a memorable moment, when we were able to give one lucky mom and her family a well-deserved, professionally appointed haven to call their own.
With so many of us moving, relocating, downsizing, or upgrading this year, Dwayne offered tips on how to make your new or different surrounding feel like home immediately. Even when vacationing or taking extended stays away from the primary home, scent is one of the most powerful reminders of that sense of home we all crave. If travel was not in the cards for you this year, he also offered tips on how to recreate the 5-Star hotel experience at home.
Many of you are familiar with how Dwayne works when it comes to selecting pieces for your home, but in one special edition we took a deep dive into his process from end to end. This included his signature Questionnaire, client discovery techniques, and how he translates it all into design that feels like you.
Another incredibly special moment was the reveal of the guest room Dwayne designed for the Ronald McDonald House of Southwest Florida. The space was a welcoming, calming oasis for the families of patients needing a respite from the challenging times they faced. A true passion project.
wayne imparted his knowledge of design styles on our audience through thoughtful examples of Mid-Century Modern, Bauhaus, Traditional, Contemporary, and beyond. His style always celebrates a nod to history, yet an enduring sense of timelessness.
The reveal of Dwayne Bergmann Interiors brand new website made 2020 a year of change for the entire DBI brand. The sleek sophistication of our new digital home now reflects the interiors we love to create.
Dwayne has a love for all things vintage, antique and nostalgic. Places strategically around the home, heirloom quality pieces add a sense of depth and layering to the story our homes tell about the dwellers. In one installment, he shared how he accomplished this delicate balance for his most well-travelled clientele and their treasure trove af art and artifacts from around the world.
Kicking off his segment on WINK TV, Dwayne shared with both audiences how to design with our furry loved ones in mind! Including functional yet aesthetically pleasing storage solutions and furniture and finish selections that can withstand the wear and tear of pets.
With each new season Dwayne shared tips on how to usher in the new with appropriate textiles, accents, colors, and mindful swaps that reflect the time of year. Most recently this spring, Dwayne suggested picking up a fun set of colored glassware to making indoor or outdoor dining feel festive and bright.
BONUS: Just last month Dwayne shared his tried-and-true best practices for designing by room including the Foyer, Powder Rooms, Master Suite, and Kitchen. Correlating to segments on WINK TV, don't miss the next installment of this designer-approved guide.